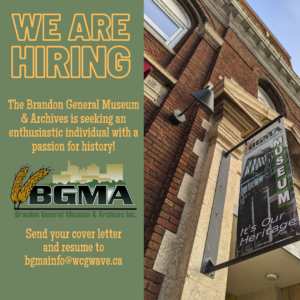 The Brandon General Museum & Archives is seeking an enthusiastic individual with a passion for history!
This part-time administrator position includes a wide range of responsibilities along with many opportunities to grow into the job.
We are looking for someone with a resourceful personality that is experienced with research, writing, public speaking, website building and social media, an eye for design, and working with the public as a tour guide and informant on Brandon city history. Must be comfortable working alone, however you will also be working with volunteers and the BGMA Board of Directors.
Knowledge of museum etiquette and artifact conservation is an asset, but not a requirement.
To apply, please submit your cover letter introduction and resume to the BGMA Office and Board of Directors at bgmainfo@wcgwave.ca
Closing date for applications is December 17th, 2021.