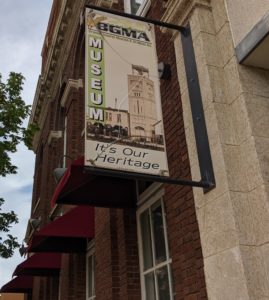 The Brandon General Museum and Archives was formed in 2007 by the City of Brandon, Manitoba. The museum officially opened on July 15th, 2011, after much support from the city and community.
Today we are governed by a board of directors, made up of three City Councillors, and community members. We are a non-profit organisation dedicated to enriching downtown and showcasing this city's valuable history. Our mission is to collect, conserve, study, exhibit and interpret historic and heritage materials relating to the City of Brandon and its place within the history of Southwestern Manitoba.
We are located in the original Manitoba Government Services (now known as BellMTS) building located in downtown Brandon on 9th Street across from the old A.E. McKenzie Seeds building. We are surrounded by local history and are also home to the BJ Hales Natural History Collection, a taxidermy gallery that once resided in Brandon University.
We recongise that we are on the traditional territories of Treaty No. 1 and Treaty No. 2, and the shared traditional lands of Cree, Oji-Cree, Dakota, Dene and Anishinabek/Ojibwe peoples, and the homeland of the Métis nation.
Board of Directors and Staff
Barb Andrew, Chair
Brent Chamberlain, Vice Chair
John LoRegio
Ron Brown
Shaun Cameron, Secretary
Brock McEwing, Treasurer
Dr. Sajjad Rao
Connie Bok
Robert Smith
Alyssa Wowchuk, Administration
Katarina May Klippenstein, Student Hire