The Brandon General Museum & Archives will be changing our hours for the fall and winter months starting October 5th! Tours will continue to be by appointment only at this time. You can view the latest update about health and safety policies and what to expect on your next museum visit HERE.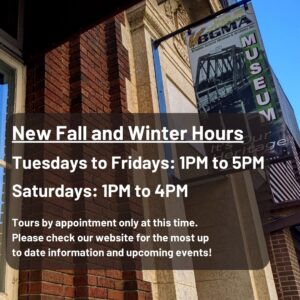 In-person events are also returning this October!
WALKING TOURS ARE NOW DONE FOR THE SEASON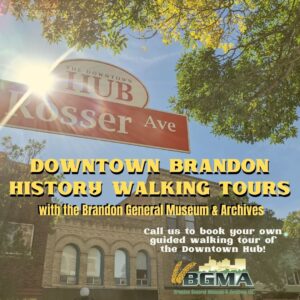 Downtown Walking Tours with the BGMA
The BGMA is now also offering walking tours of the downtown area by appointment. The same health and safety policies apply as our other tours and you can find more information about that HERE on our website.
These guided walking tours explore downtown Brandon's architecture, street names, businesses of the past, and stories of the people that helped create and grow the city of Brandon. This tour runs around 45 minutes and there is lots of ground to cover! So, remember to wear suitable walking shoes and get ready to know downtown!
WALKING TOURS ARE NOW DONE FOR THE SEASON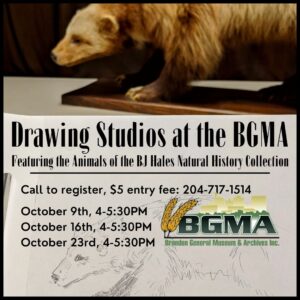 Drawing Studios at the BGMA, Featuring the Animals of the BJ Hales Natural History Collection
We are bringing back our open drawing studios for artists of all skills and ages this October! We transform the BJ Hales Gallery into a creative space to get up close and personal with Manitoba wildlife represented with taxidermy, study skins, and skulls.
Open studios have no instructor and artists bring the art medium of their choice and work at their own pace. $5 entry fee to participate.
Registration is required while we have limited capacity in place, so be sure to give us a call! Masks and full vaccination required. Please read THIS FIRST for the latest health and safety policies at the BGMA.