The Brandon General Museum & Archives is open! We currently are following the most recent release of Manitoba Provincial COVID Public Health Orders in effect as of September 7th, 2021.
Tours of the BGMA will continue to be by appointment only at this time while we are following the latest public health orders that apply to museums:
Museums are open to fully immunized people only, to a maximum capacity of 50 per cent
Museums operate under the fully vaccinated requirement when open to the public as a museum, both indoors and out
Unvaccinated children under 12 may attend/visit these facilities/events (as appropriate) if accompanied by a fully vaccinated member(s) of their household
In all cases, following the COVID-19 fundamentals, including indoor mask use and physical distancing, is still required to protect the health and well-being of all Manitobans.
As of September 7th, the Brandon General Museum & Archives will be offering tours of the museum by appointment only at this time to groups of up to 10 individuals maximum. Appointments can be made by calling or emailing the BGMA and we will ask for your name, contact information, and the number of people in your group.
Upon arrival, you and anyone in your group will be required to show proof of vaccination. A Visitor Logbook will be kept with this information for COVID-19 contact tracing purposes.
The following documents are considered valid proof of immunization in Manitoba along with a photo ID:
Manitoba Immunization Card
National Defence Canada Covid-19 Vaccine Record / Card
Canadian Public Health Association (CPHA) Travel Vaccination Record
an official document issued by a Canadian province or territory containing information of a person's COVID-19 vaccination history
We still have exhibits and displays under construction and we appreciate your patience in advance and would love to discuss the future plans for these spaces with our visitors!
Due to limited factors and construction, we are not charging a set admission at this time and instead we are asking for donations of any reasonable amount. Cash, debit, and credit are accepted.
Resources for more information:
Province of Manitoba, COVID-19 Updates
Appointments for tours are currently during these hours: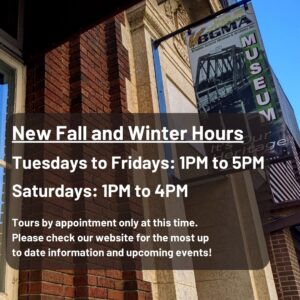 Tours can take anywhere from 40 minutes to an hour and 1/2. We may also be able to accommodate tours during some mornings–give us a call or email to inquire first!
Call or email the BGMA to book your next museum tour HERE!
If leaving a voicemail please provide your name, contact number, and date and time you would like to book you tour and we will get back to you as soon as we can!
–
What we are doing to ensure a safe and enjoyable experience:
– Keeping a visitor log for tracing purposes.
– Enforcing proper physical distancing with visitors during your guided tour.
– The front door to the building is remaining locked and only those that have made appointments will be let in to help control the number of individuals entering the building and the museum.
– Our staff is wearing masks for their safety and yours.
– After every tour we will be sanitizing any frequently touched surfaces to provide a clean environment for the next tour.
What you can do to help make your visit safe and memorable:
– If you are experiencing any COVID-19 related symptoms, have recently been in contact with an individual with COVID-19, or feeling a bit under the weather, we respectfully ask that you visit another time and stay home.
– All visitors are required to wear a disposable or layered cloth mask while inside the museum. Read more about non-medical masks and face coverings from the Province of Manitoba, Mask Guidance for Manitobans.
– Please refrain from leaning on and touching our displays—many of these items are very old and are very difficult to sanitize!
– Please be aware and respectful of staff and residents that live in the building and please follow any temporary markers and signs put in place. Remember that they are there for your safety, ours, and future visitors.
We look forward to seeing you again!