Brandon's Residential School, Online Educational and Archival Resources
The city of Brandon, Manitoba, is located on Treaty 2 territory and the shared traditional lands of Cree, Oji-Cree, Dakota, Dene and Anishinabewaki Peoples, and the homeland of the Métis Nation.
The purpose of Canada's Residential School system was to take children far from their homes and force them to disconnect from their people, families, language, stories, and culture. These places were operated by the Canadian Government and run by churches. Hard labour, abuse and discipline, government experiments, and illness and disease were recorded at many of these schools.
Brandon's Residential School (also recorded as the Brandon Industrial School) was active for 77 years, from 1895 to 1972. It was located down Grand Valley Road, across from the Experimental Farm property. From 1895 to 1925 it was looked over by the Methodist Church, 1925 to 1969 was the United Church, and from 1969 to 1972 the Roman Catholic Church took it over. It sat abandoned until it was demolished in August of 2000.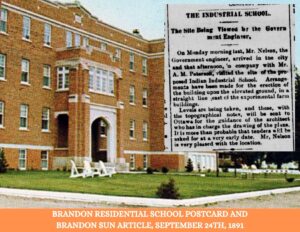 Children with homes in Northern Manitoba and even Ontario were taken away to be brought here–and many are still here.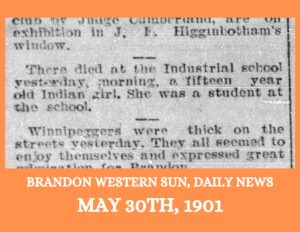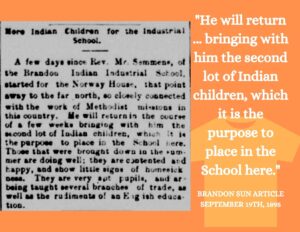 Below is a collection of online resources and archives about Canada's Residential Schools and the Brandon Residential School. The effect of these schools is still very raw and recent in Canadian and Brandon history. History is our past but it is also our present. If we remain ignorant to what roles these events in our past play in our current day there will be no chance of reconciliation.
Content and language may be triggering to some.
First Nations Health Authority, Indian Residential Schools Program
24 Hour Residential School Crisis Line: 1-866-925-4419, if you require emotional support
Why Do We Wear Orange? Orange Shirt Day, Every Child Matters
Truth and Reconciliation Commission of Canada
National Centre for Truth and Reconciliation, University of Manitoba and University of Manitoba Archives
Investigation of unmarked graves and burial grounds at the Brandon Indian Residential School, thesis by Katherine Lyndsay Nichols Abstract: The purpose of this thesis is to identify the names of the students who died while attending the Brandon Indian Residential School (BIRS) and determine the location of the school's burial grounds along with the number of unmarked graves on the school property. My research project uses mixed methods including; archival research, qualitative interviews, Ground-Penetrating Radar (GPR), Electromagnetic Ground Conductivity (EM38), control burns, and aerial photography to systematically survey the school's burial grounds. My investigation into the deaths and burials of BIRS students aligns closely with a larger project being conducted by the Truth and Reconciliation Commission of Canada's (TRC) Working Group on Missing Children and Unmarked Burials (n.d.). This Working Group attempts to locate the burial grounds for the Indian residential schools across Canada and identify the names of the students who died at the schools in the archives. This research was conducted in collaboration with Sioux Valley Dakota Nation, the University of Manitoba, Brandon University, the United Church of Canada, the Royal Canadian Mounted Police (RCMP), and in consultation with the TRC, Manitoba Historic Resources Branch, and Brandon Research Centre. By using an applied anthropological approach my thesis works to contribute to the ongoing TRC's Missing Children's Project. It is my hope that this research can assist the Sioux Valley Dakota Nation with future restoration, protection and commemoration plans.
The Children Remembered, Residential School Archives Project, Brandon Residential School
The United Church Archives, Brandon Residential School
Manitoba Historical Society, Historic Sites of Manitoba: Brandon Indian Residential School and Residential School Cemetery
Indian Residential School History & Dialogue Centre, Brandon Residential School
The Eugenics Archives, Brandon Residential School
Unmarked graves of children from [Brandon] residential school found beneath RV park, CTV News, August 31th, 2018 article
Canada's shameful history of nutrition research on residential school children: The need for strong medical ethics in Aboriginal health research, article published by Noni E MacDonald, MD FRCPC, Richard Stanwick, MD, and Andrew Lynk, MD
Native Land Digital, Territory/Indigenous Land Acknowledgement
If there are resources or articles missing from this list, please submit them to the Brandon General Museum & Archives to be added.