Exhibit up until Spring 2020! Don't miss your chance to see Behind Brandon's Green Door before it is gone! Sponsored by The Dock on Princess.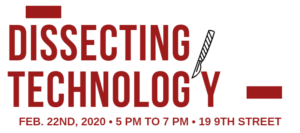 Feb. 22nd
5:00PM – 7:30PM
Dissecting Technology
Get a hands-on experience of what makes old technology tick by tearing it apart! Retired tech and tools will be provided. All tech will be recycled after the event. Children must have an adult accompany them.
Come in and let off some steam and curiosity by taking apart old technology such as keyboards, wired mice, and calculators. There will be a safety discussion and a short presentation about now technology has evolved over the years before digging in.
$10 fee to participate in the chaos
Limited space available, please drop by the museum or contact the BGMA office at bgmainfo@wcgwave.ca to register!
~

Feb. 25th
Taxidermy Tuesday Drawing Studio
Artists of all ages and skills are welcome!
This is a still-life open studio that allows you to get up close and personal with taxidermy subjects of all shapes and sizes. Three to four different drawing subjects are chosen ahead of time and will be briefly discussed and introduced beforehand. Bring your own paper and art supplies. Wet and dry media are both allowed. Some art supplies may be available at the museum, but are expected to be returned at the end of the session.
This open studio is available the last Tuesday of each month (unless stated otherwise). Drop-in fee of $5 with coffee and tea available for participants.